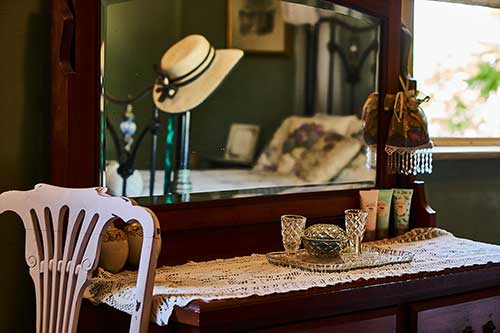 Looking for accommodation in Maitland? Do you want to be close to the famous Hunter Valley vineyards? Look no further. Staying at The Old Victoria's newly refurbished rooms offers more than just a bed and breakfast experience.
A night at The Old Victoria is a step back in time to the very start of Maitland's colonial history. At The Old Victoria you will experience the rich decor of the Georgian era. With five rooms to choose from, you are sure to find something that suits your needs.
From the grandeur of the Albert and Victoria Rooms to the soft elegance of the Seamstress's Room, through to the warm ambience of the Poet's Room and the Music Room, the attention to detail is evident in every aspect of the refurbishment.
All rooms are located upstairs through a private entrance (separate to the bar entrance). A shared the Drawing Room is open to all guests and, with its warm timbers, leather lounges and solid timber table, it is sure to impress. The Drawing Room (a term that appeared in the 18th century) has traditionally been used for entertaining guests and is where guests gather to socialise before and after dinner. At The Old Victoria, it is also a space for guests to enjoy breakfast together and socialise a little.
The bed and breakfast has two bathrooms – both very modern and clean. While the owners of The Old Victoria have been diligent about returning the bed and breakfast to its original glory, modern bathrooms were one concession that just had to be made.
Another concession to modern living is the mini fridge, toaster and tea and coffee making facilities in the Drawing room. And did we mention the complementary port and fresh fruit available in the Drawing Room upon arrival.