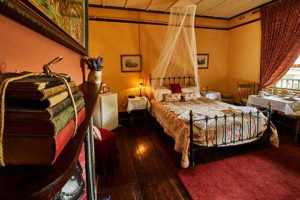 Don't settle for "ordinary" when you book your accommodation in Maitland. Instead, make your Maitland stay as memorable as it can be. Luxuriate in the regal atmosphere of the Victoria Room. This room (and the Albert Room) is inspired by the love affair between Queen Victoria and her husband Prince Albert.
The Victoria Room exudes the elegance associated with the reign of Queen Victoria. Decorated in a style befitting the royals, this grand room of deep reds, soft lights and sheer curtains is one of our most popular accommodation choices.
For complete privacy, a small dining table is available in the room or you can join other guests in the Drawing Room.
Facilities and amenities available in this room

Queen bed
Additional sofa bed
Wardrobe
Dining table (for two)
Dresser
Wi-Fi
Bathroom (shared)
Luxury toiletries
Linen and towels provided
Laundry facilites (shared)
Breakfast (in the privacy of your room, in the Drawing Room or downstairs in the restaurant or courtyard)
Tea and coffee making facilities, a toaster and a mini fridge are available in the Drawing Room
Complementary port and fruit are provided in the Drawing Room on arrival