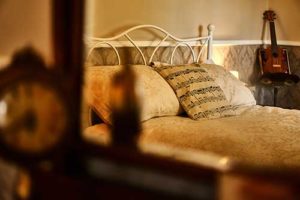 You won't need to bring a drum kit or an acoustic guitar because all the music happens downstairs. But you can still enjoy the ambience of the Music Room. In the morning the room is bathed in light and in the evening the bedside lamps cast a warm glow across the soft double bed, bedside tables and dresser.
The rooms of The Old Victoria were first opened in 1837 – the year organist and composer, Théodore Dubois, was born and the year violinist and composer Joseph Schubert died. So it is only fitting that in its most recent incarnation, at least one room pays homage to the rich history of music.
Don't be surprised if you hear the rising tones of a violin soloist drifting up from the bar downstairs. It won't be the ambiance of the room causing your imagination to play tricks on you or the sounds of yesteryear – it will be our local violinist drawing her bow artfully across the strings of the hollow wooden box.
Facilities and amenities available in this room

Double bed
Dresser
Wi-Fi
Bathroom (shared)
Luxury toiletries
Towels and linen included
Laundry facilites (shared)
Breakfast (in the Drawing Room or downstairs in the restaurant or courtyard)
Tea and coffee making facilities, a toaster and a mini fridge are available in the Drawing Room
Complementary port and fruit are provided in the Drawing Room on arrival